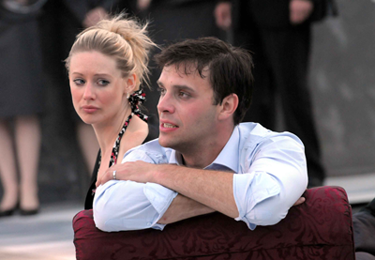 Not really a surprise but Joseph Millson delievered the closest thing to a perfect Hamlet I have seen (I am mildly excited but not really holding my breath for the RSC version on the 24th). Hell, he even walks like Hamlet (yes, from reading the play so many times I have a very clear mental image of how Hamlet should walk).
The man didn't strike a wrong chord, not once. He was disturbingly funny when he had to (my main theory on Hamlet: it needs to be played my someone with great comedy skills, which is why Lawrence Olivier and Kenneth Branagh fail at it and Adrian Lester excels), he was angrier than he was melancholic, he was fit and energetic, disarmingly charming, annoying and annoyed. Yes, the perfect Hamlet.
It was friggin cold that night and I, being a novice to Stafford and the whole open-air theatre experience (and it had been hard enough to actually get to the place to worry about clothes), was terribly underdressed. That I didn't die of hypothermia was nothing short of a miracle. But pain of freezing is nothing when confronted with the perfect delivery Mister Millson offered with
every
line.
The rest of the cast was competent but average. Louise Jameson (I was shaking with excitement upon seeing her name on the programme, pathetic
Doctor Who
fan that I am) seemed to try too hard most of the time. Kellie Shirley was a bit weak on the madness part of Ophelia but quite engaging otherwise. Lex Danie started on a bad note with his uncharismatic Claudius but grew on me as the play went. All in all the cast could have been better but it could have been worse. One can only hope what Joseph Millson could have done with supporting actors up to his game - if indeed, there is anyone out there capable of being up to his game.
Now, the circumstances of my trip to the Midlands were almost as dramatic as the Danish Prince's story itself. Only slightly less bloody.
Getting there was the adventure everybody guessed it would be. A mayor failure in the rails delayed or cancelled all trains from Euston that very morning. Predictable. I got there about five in the afternoon, with no map or sense of place. But I succesfully located not only my hotel (The Vine, highly recommended) but a bureau of exchange to take care of my Spanish euros at a very convenient rate. Hotel was seventy quid (but Joseph Millson's talent is priceless) but it had many tv channels. Watched my first ever Avengers episode at two in the morning - damn, Emma Peel is one cool lady.
Castle -and therefore place of performance- was IN THE MIDDLE OF BLOODY NOWHERE, just as one might guess castles should be. Very steep and very pretty, though in the MIDDLE OF BLOODY NOWHERE. Buses didn't reach there. Had to get a taxi (yet more money spent on Mister Millson's awesomeness) to go there. I had no idea how to get back from there; hopefully the girls in the improvised Box Office were very helpful and dug out some taxi phone humbers for me to write down. The taxi back to civilization never seemed to arrive to pick me up - I thought I was going to be chopped to death by some countryside psycho killers from the Midlands.
This is all very irrelevant to the fine theatrical experience that was "Hamlet" but it seemed to add to it all.
So.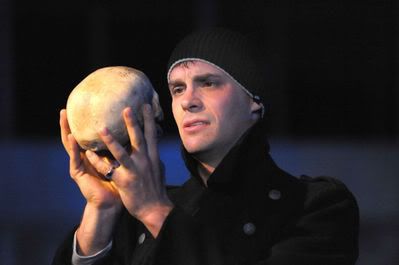 I spent 120+ pounds in going to see Joseph Millson in the MIDDLE OF BLOODY NOWHERE and boy, am I glad I did.