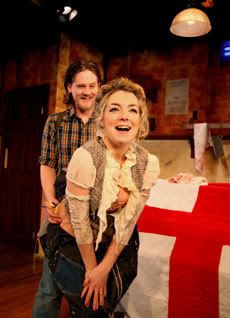 The most absurd reasons to go to the theatre often result in a good night out.
I wanted to see "Tinderbox" merely on the basis that Brian Dyck had been in
Blackpool
, a tv favourite of mine. He is a fine enough actor and quite pleasing to look out. I left the theatre in love with Sheridan Smith. The girl had done well enough in sitcoms and I admired her energy in portraying the new Doctor's companion in the Doctor Who audiobooks, but it's in theatre where I find she is at her best.
The play itself was promising. Irregular and oddly cast (the actors were younger than the characters by far) but fresh at times, and with some quality satire. Lucy Kirkwood also shows a healthy interest in language and relationships between rhythms and words and I, for one, am thankful for that.
Like it quite a bit, with reserves.