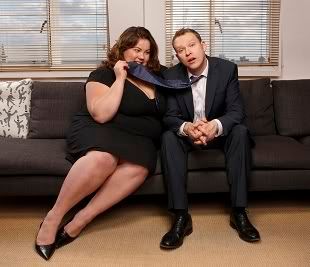 Robert Webb was quite better than expected. Not that I didn't expected him to be good. He just was even better than I thought he would.
Nice, clean, effective production. I enjoyed listening to the White Stripes during the scene changes.
I still like the Spanish version (
¡Gorda!
) with Luis Merlo and Iñaki Miramón much, much better. But maybe because it had Luis Merlo and Iñaki Miramón in it.
Neil LaBute is always a good night out, in any case. And giving more money to the Trafalgar (it will always be my favourite theatre, for there I saw
Elling
) doesn't hurt quite as much.